KGCOOK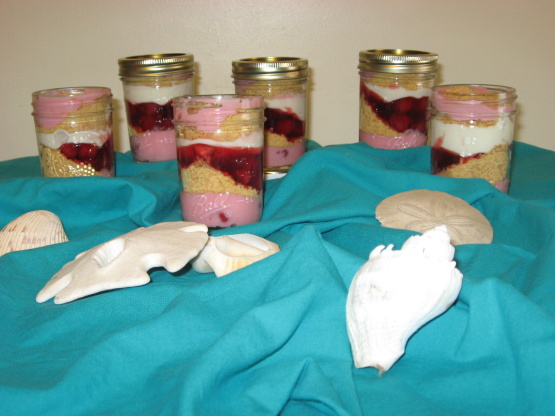 Looking back in my book I found another good one from "Taste of Home Quick Cooking". I don't own parfait glasses so I use half pint canning jars instead; besides it comes with its own lid. This recipe will be very versatile in that you can change to most any flavor of pie filling. These would be great in the summer and there is no cooking so it won't heat the house!
Combine 1 cup pie filling and 8 ounces of yogurt.
Place about 2 tablespoons of mixture in each glass of 6 glasses.
Top each with 1-2 tablespoons of the graham cracker crumbs.
Next top that with about 2 tablespoons plain pie filling.
Next top that with plain yogurt.
Next top that with remaining graham cracker crumbs.
Top that last of the pie/yogurt filling.
If you do have any crumbs left over, you can use those over the top for garnish.
You may or may not use all of the yogurt.
I ate it.