Cherry Tomatoes Provencale
Kaarin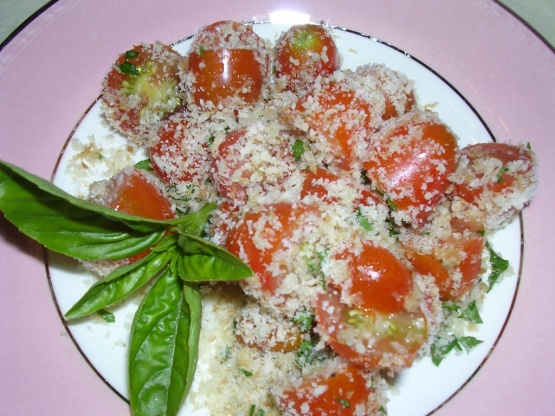 A delightful side dish with the sweetness of cherry tomatoes. This is a great addition to any meal.

Made this for the Think Pink 2012 tag game and also for the Diabetic forum...what an easy and tasty recipe...especially with fresh cherry tomatoes. Definately a keeper!! Thank you for posting. Another great recipe for my Favorites of 2012.
Preheat oven to 400 degrees.
Combine bread crumbs, parsley, garlic, salt and pepper.
Place tomatoes in baking dish and drizzle with oil.
Cover with breadcrumb mixture.
Sprinkle with Parmesan and bake for 5 minutes.