Cherry Tomatoes on Provolone Garlic Bread
Derf2440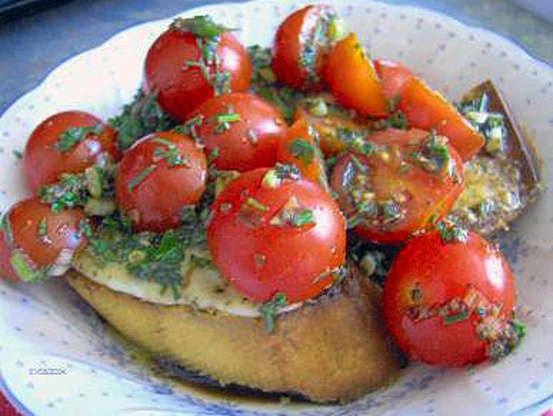 I can't believe this recipe hasn't been found and reviewed yet. This is so good! I used french bread from the deli and this went together very easily. I let the tomato mixture marinate for 4 hours for maximum flavor. Served this with pasta. Thanks Troy!
For the tomatoes, mix tomatoes, scallions, parsley, rosemary, garlic, olive oil and vinegar in a shallow bowl.
Season with salt and pepper.
Cover bowl and let tomatoes marinate at room temperature for at least 1 hour, but preferably 3-4 hours.
Stir occasionally to distribute seasonings.
For the bread, combine olive oil and garlic and let mixture stand for about 10 minutes so flavors can mingle. Meanwhile, heat the broiler.
Brush one side of each bread slice with garlic and olive oil mixture and broil them oiled-side up until lightly browned.
Put a slice of provolone and a generous sprinkling of Parmesan on each slice, reserving a little of the parmesan for garnish.
Set aside. Just before serving, heat up broiler again and toast cheese until bubbly.
Serve bread in shallow bowls, spooning about 3/4 cup of tomatoes and marinade over each slice, garnishing with remaining parmesan.