Cherry Tomatoes in Herb Marinade
loof751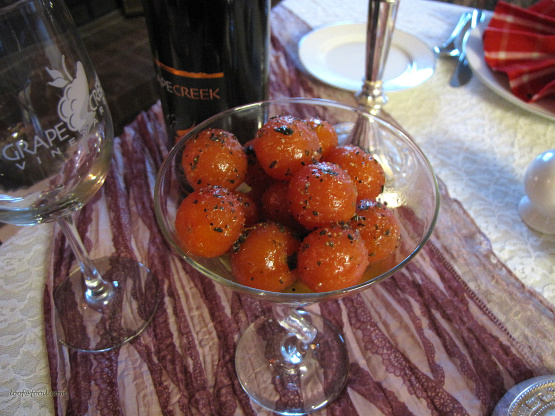 Sounds like a lot of trouble peeling cherry tomatoes but it's worth the effort to create these wonderful appetizers. At the picnic, you can eat them with picks directly from the serving container!
Place tomatoes, a few at a time, in a wire strainer and immerse in a large pan of rapidly boiling water for about 15 seconds.
Immediately rinse tomatoes under cold water.
Slip off and discard peels and stems, and place tomatoes in a shallow container with a tight fitting lid In a small bowl, combine vinegar, onions, basil, oregano, garlic salt, pepper, and oil, beat well and pour over tomatoes.
Cover and refrigerate for at least 2 hours or until next day, stirring several times To serve, eat with wooden picks directly from container, or spoon tomatoes onto plates.