Lalaloula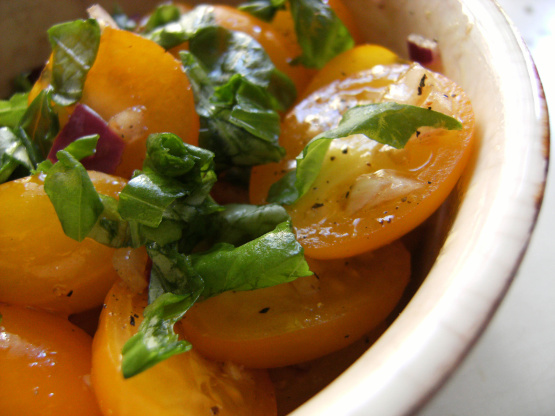 This is a great slad for those home growm little beauties! So easy, and is especially lovely when different colour cherry tomatoes are used.

Tis, this is a stunning recipe!!!! It is so easy to make with very few ingredients, but the end result tastes like something youd get in a high-end restaurant! Very, very yummy!
I used organic orange date tomatoes which were so good in this. As per Pat's suggestion I used balsamic vinegar reducing the amount a tad as Im not that much of a vinegar fan. It tasted so good!
THANK YOU SO MUCH for sharing this definite keeper with us! Cant wait to make it again.
Made and reviewed for the Cherry Ripe Cocktails Aussie/NZ Recipe Swap #45 October 2010.
Put onion in a bowl with the vinegar and oil. Toss well and leave to marinate in refrigerator for 1 hour, until flavours blend.
When marinated, remove from fridge and add tomatoes, salt flakes, and cracked pepper.
Toss salad and just before serving, sprinkle tomato salad with the basil.
Serve.