Ms B.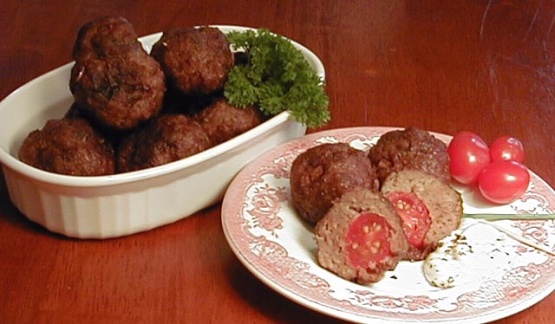 These can be made ahead, just shape the meatballs, cover and refrigerate. They're great as appetizers, or for your main meal.

Top Review by Ms B.
These are a great appetizer served with horseradish sauce. I used grape tomatoes, seasoned bread crumbs, and Italian seasoning (instead of just oregano). In the future, I would up the amount of onion, or add a bit of onion powder. My meatballs didn't brown well in the oven for 25 minutes. Therefore, I tossed them with some browning sauce mixed with water and baked for an additional 10 minutes. We had a Sunday afternoon of snacks, instead of lunch and this fit the bill perfectly.
Combine beaten egg, bread crumbs, milk, onion, salt, oregeno and pepper; add the ground beef and mix well.
Shape about 1/4 cup of meat mixture evenly around each cherry tomato to form round meatballs.
Place meatballs in a 13X9X2 baking pan; bake at 375 for 25 to 30 minutes.