Parsley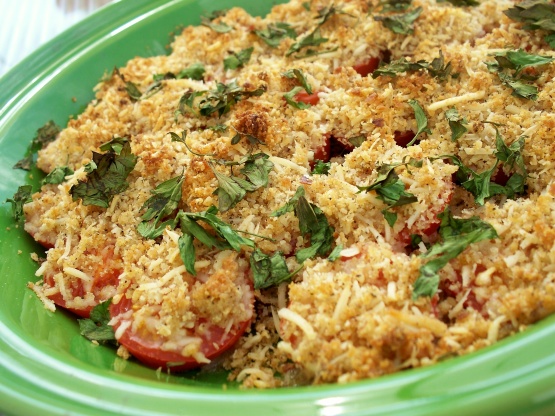 Got this from MSN. Looks like a way to use up all of my cherry tomatoes. I think this might be a good accompaniment to pasta.

I only had one pint of cherry tomatoes, but I left the rest of it exactly the same. So very yummy! Thanks for the recipe. I plan on using the cheese, herbs, garlic, and olive oil for garlic bread.
Preheat oven to 425°F.
In small bowl, combine breadcrumbs, Parmesan, garlic, pepper, and oil until blended.
Place cherry tomatoes in shallow 1 1/2-quart casserole or 9-inch deep-dish pie plate. Top with breadcrumb mixture and sprinkle with parsley.
Bake until heated through and crumbs have browned, about 20 minutes.