Cherry Tomato Cucumber Salad
Derf2440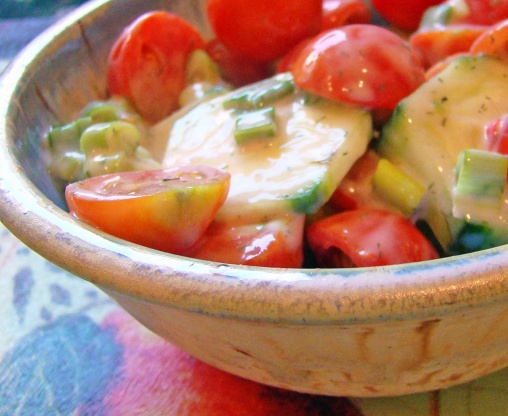 by Barbara Scharold from Woman's Day. I'm always on the look out for cherry tomato recipes since my heritage plants always seem to over produce.

A lovely summer salad! Great to use up the cherry tomatoes from our patio pot, Quite delicious and easy to put together, I had no sour cream in but we didn't miss it, the dressing was a little tart the way we like it. I used no fat mayo and had to use dried dill. Thanks for posting we will be making it again.
In a large bowl, whisk together mayonnaise, sour cream, vinegar and lime juice.
Add tomatoes, cucumbers, onions and dill and toss gently to coat.