Parsley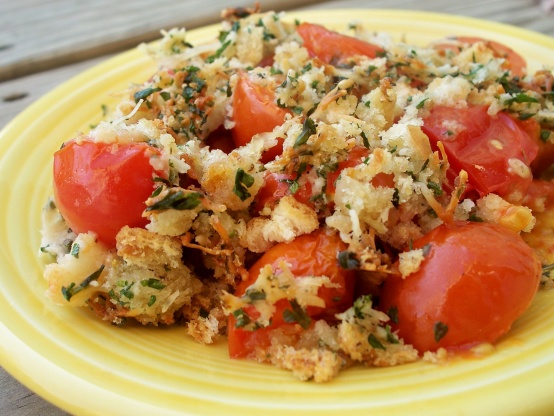 This is a unique and creative way to fix cherry tomatoes as a delicious side dish. I found it in the spring issue of Good Food and can't wait to try it.

Very good, simple and fresh ingredients. I did use whole wheat but I'm sure any would work. I also used a mix of yellow pear and cherry tomatoes, that is just what I had. Loved it. Thx
Preheat oven to 400 degrees F.
Put the first 7 ingredients into a food processor bowl.
Pulse until bread is very coarsely chopped, 4-6 times.
Grease an 8 inch square baking dish and arrange the cherry tomatoes in a single layer.
Sprinkle with the bread crumb mixture.
Bake until crust is browned and tomatoes are tender, about 20 minutes.