Cherry Tomato and Kalamata Olive Penne
JP834618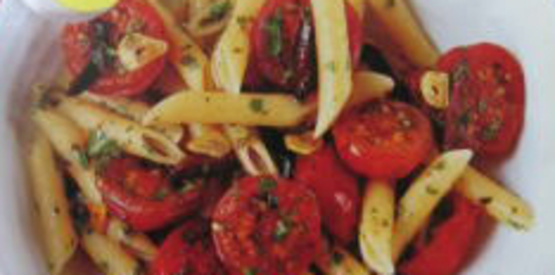 This is the most incredible pasta recipe I have. It is simple to make and dangerously addictive. If you are looking for a new recipe that is incredibly delicious, beautiful and will get you compliments you have found it. Even people who dislike tomatoes, olives or both cannot resist this pasta once they have tasted it. It is my adaptation of a recipe I found in 'Everyday Food'. Enjoy!

Top Review by Zilla
I see no one has reviewed this lately. I highly recommend you try it. The recipe was easy and fantastically good. I used a bit less oil and olives than called for, as well as way more cherry tomatoes [needed to use up volunteer cherry tomatoes from the yard]. I also added some chopped yellow bell pepper for color. Yummy! Oh yes, go easy on the salt. The olives and Parmesan are very salty already.
Bring a large pot of salted water to a boil, add pasta.
In a medium bowl add halved cherry tomatoes, kalamata olives, crushed red pepper flakes, oregano, salt and pepper, set aside.
Add garlic and olive oil to a medium skillet and saute on low heat until garlic is translucent and soft but not brown, about 4 minutes.
Increase heat to medium low, add tomato and olive mixture and saute 1- 3 minutes just until the tomatoes begin to release their juices, tomatoes should be hot but still firm, be careful not to overcook them.
Drain pasta when Al Dente and return to pan, toss with fresh chopped parsley.
Mix in the tomato and olive mixture gently.
Add parmesan cheese and toss gently, serve hot.