Brenda.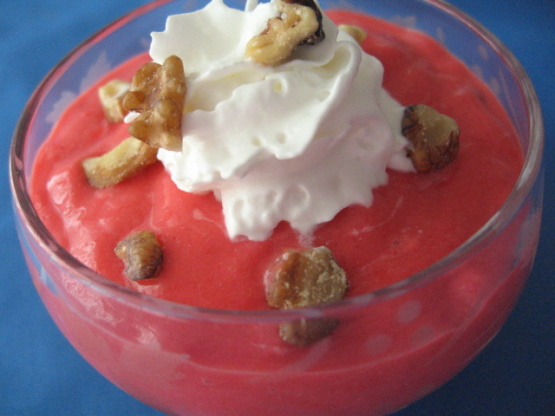 This salad is one of our favorites. Very easy to make.

A little different and very good. I saw I had a box of red jello in the pantry and assumed it was cherry. It was actually Cranberry Raspberry and worked deliciously in this recipe. I was a little surprised by the time it took my jello mixture to thicken, about 4 hours, but I am guessing the milk added to the time. Thanks for sharing. *Made for Fall PAC 2008*
Dissolve 1 small pkg. cherry jello in 1 cup boiling water.
Add 1 cup cold water and stir well.
Stir in 1/2 cup carnation evaporated milk and pinch of salt.
Let set in refrigerator until slightly thickened.
Fold in 3/4 cup sour cream and 3/4 cup chopped walnuts.
Refrigerate. Let set until firm.