J-Lynn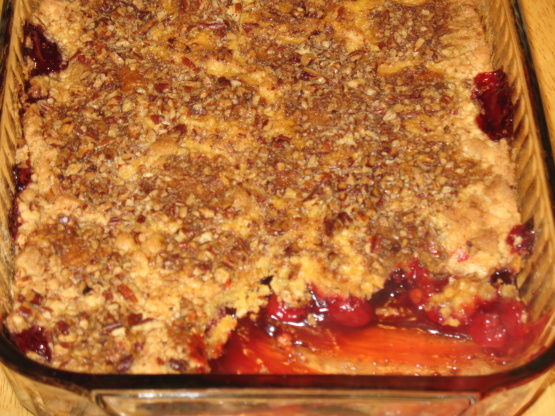 This is my dad's all time favorite dessert. I always make it for him for his birthday, but it still is oh-so-easy!

We loved this dessert. The topping of cake mix and nuts....yummy. I liked this so much I'm already thinking of what other flavors to use. I am thinking of trying peaches next time. So good. Thank you for posting.....great recipe.
Put oven on 350 degrees F.
Grease a 13x9 inch pan.
Put both cans of cherry pie filling in.
Top with cake mix.
Press butter throughout dish.
Sprinkle with nuts.
Bake for 1 hour, or until it looks done (haha).
Serve warm, also is good with vanilla ice cream or whipped cream-- or both.