Cherry Shortbread Cookies
Pixie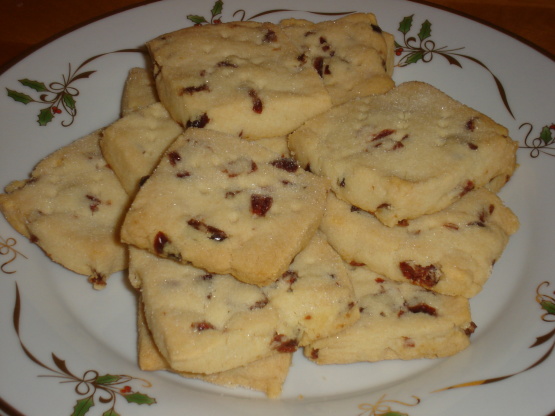 Rated "least likely to screw up" cookie by Rachael Ray. In her Dec 2008 magazine.

I made these for Valentine's Day and cut them into hearts. I made the first batch with dried cherries only and the second batch with dried cherries and minced candied ginger--yum. I dipped half of the cookie in white chocolate, so it was really decadent. Thank you.
Preheat oven to 300 degrees F (150 degrees C). Line a cookie sheet with parchment paper.
Using a food processor, mix the flour, butter, sugar and salt for 20 seconds.
Add the cherries and pulse until chopped (about 20 seconds).
Turn out the mixture onto a work surface and gather into a smooth, compact ball.
On a lightly floured surface, form the dough into a 7 by 9 inch rectangle, about 1/4 inch thick.
Cut into 12 rectangles. Prick each cookie 3 times with a fork.
Using a metal spatula, place the cookies about 1 inch apart on the prepared cookie sheet and refrigerate for 20 minutes.
Bake until light golden brown (30 minutes).
Let cool for 10 minutes before transferring to a rack to cool completely and sprinkle with sugar.