Barnie86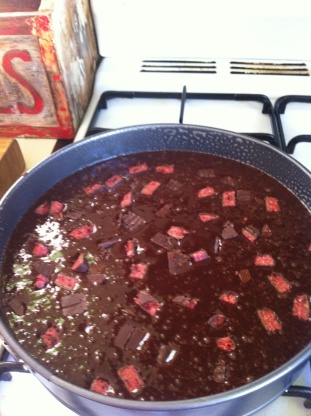 This is definitely a special occasion cake. It is heavy, rich and very chocolaty. Serve with whipped cream if desired! The decoration is impressive looking but is easy to do. Please don't get scared off by the number of ingredients or stages. It is really not has hard as it seems. I have not included cooling time in the time allowed. Australian measurements used. (Aust. Women's Weekly)
Preheat oven to 150°C (300°F). Grease and line a deep 22cm round cake tin with baking paper (base and sides).
Melt butter in a large saucepan. Add coffee, coconut milk, chocolate and sugar. Stir over heat until sugar dissolves and chocolate melts. Remove from heat and cool to room temperature.
When mixture has cooled, and using a whisk, stir in the sifted SR flour, plain flour and cocoa. Mix vanilla into the eggs then add mix to the main mixture. Stir in half of the Cherry Ripe (i.e. 1 bar).
Pour mixture into prepared tin then top with remaining Cherry Ripe pieces.
Bake about 1 3/4 hours or until skewer comes out clean. Stand for 10 minutes then cool on wire rack. (Make sure to turn cake so top-side is up).
Make icing/frosting and chocolate panels (see below).
Once cake is cold spread the icing/frosting over the entire cake. Press the chocolate panels around the side of the cake, slightly overlapping each panel. If desired, chop an extra Cherry Ripe bar into pieces and use to decorate the top of the cake.
Chocolate Icing/Frosting: In a small saucepan, over low heat, combine chocolate and butter. Stir until smooth. Cool, then refrigerate until mixture is spreadable. Be patient - it will thicken.
Chocolate Panels: Cut 2 strips of baking paper measuring 6cm x 50cm. Put chocolate in a glass bowl and microwave at 55% (MEDIUM, Level 6) for about 1 minute. Stir twice during cooking. When chocolate has melted stir in oil. (Or you could melt over a pan of simmering water - but add oil with solid chocolate.) Now spread the chocolate/oil mix over your 2 strips of paper. Tilt paper to allow excess to drip off. Allow chocolate to set then, using a sharp knife, cut chocolate into 4cm panels. Carefully peel away the paper.