twissis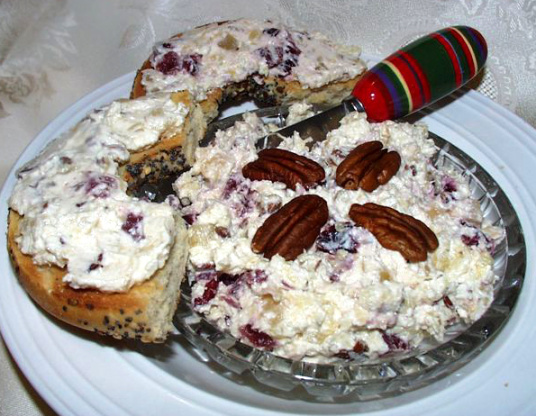 Prize-tested winner from BHG magazine in the spreads for muffins, toast and bagels category. I've changed the cottage cheese and sour cream to fat free/low fat versions but if you're not dieting, hey, go for the big guns! ;-)

This is a great treat for low fat! I made a batch tonight and had some of the dip with crackers. I have some wheat rolls, so I will try it in the morning. I can only imagine it'll get better once it's refrigerated overnight. I don't mind if the cherries bleed, I think it'll be prettier that way. This is definitely worthy of being put out at a party, too.
Place cottage cheese in a blender or food processor. Cover and blend or pulse until smooth.
Transfer cottage cheese to a medium bowl. Stir in sour cream, brown sugar, pecans, cherries and lemon zest.
Serve immediately or cover and refrigerate for up to 8 hours. (Spread can be kept chilled longer but cherries will begin to stain).
Serve as a spread for muffins, bagels, English muffins or toast.
* To toast the pecans - preheat oven to 350ºF. Spread nuts in a single layer on a baking sheet. Bake for 5-7 minutes or until lightly toasted.
Serving size = 1 tablespoon.