Cherry-Pecan-Apricot Bread
Annacia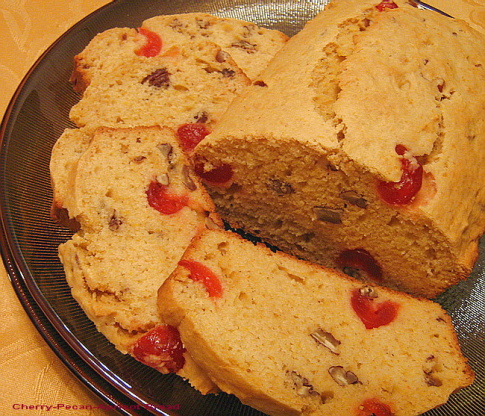 A quick bread with cherries that's almost cake-like. Really delicious. Cooking time includes cooling time, too.

the taste was great although I would have prefered it to rise a bit better than it did, I am going to try this again but increase the BS and BP to 1 teaspoon, I'm also going to try this using mashed pears in place of apricots, this bread tastes even better the next day, thanks for sharing echo!
Preheat the oven to 350°.
Grease a 9 X 5-inch loaf pan, line the bottom with wax paper and grease the paper.
Beat the butter with sugar until fluffy; blend in the egg.
Sift the flour, baking powder, baking soda and salt together.
Combine the apricots, sourcream and almond extract.
Stir the flour mixture into the sugar mixture alternately with apricot mixture.
Fold in the nuts and cherries.
Turn into the loaf pan and bake 50 minutes or until crust springs back when lightly poked with fingertip.
Cool in pan on wire rack 10 minutes, turn out and cool completely.