Pam-I-Am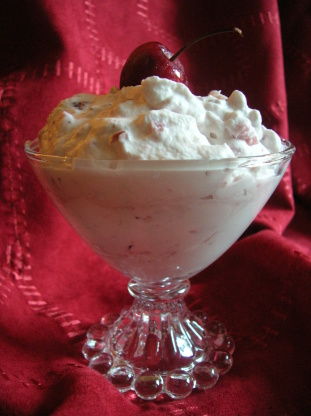 This is a quick and easy way to enjoy fresh cherries when in season. Recipe is from a local magazine, Sabrossa, which is a southwest dining guide.

This was a very easy and tasty dessert - goes together very quickly. I added some chopped coconut. I also think it would be good with mini chocolate chips. The only tough part of preparation was pitting cherries without a cherry pitter! A good dessert!
Set aside 6 whole cherries, with stems if still attached.
Pit the remaining cherries.
Combine the pitted cherries and one tablespoon of the confectioner's sugar in a food processor.
Puree until coarsely chopped.
Whip the cream with the remaining confectioner's sugar until medium peaks form.
Fold in the cherry puree and distribute the mouse among champagne flutes or small parfait glasses.
Top with reserved cherries and serve immediately.
The longer the mousse sits the darker the color.