KateL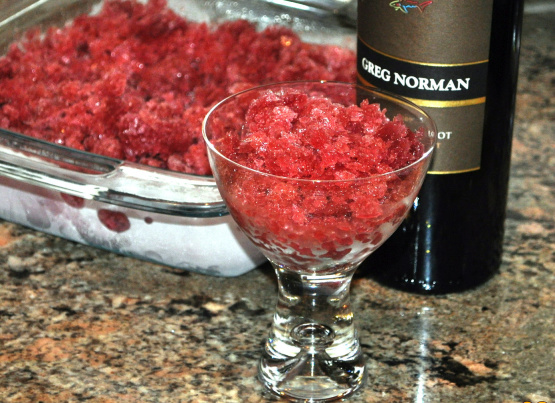 This is from Cooking Light, June 2010. I am posting it for safekeeping as I am currently far too preggo to enjoy this treat LOL!

Top Review by KateL
Perfect ending! At first it looked like grape Koolaid popsicle, but the cherry and merlot tastes came through. Sheer delight, this can also be used as a palate cleanser. Use a good merlot because you will taste the difference. Thanks for sharing, Smellyvegetarian! Made for The Wild Bunch of ZWT8 for its trip to Australia/NZ.
Combine water and sugar in a small pan. Bring to a boil, then simmer 3 minutes. Remove from heat and stir in ice.
Meanwhile, grate rind and squeeze juice from orange to measure 1 T and 1/2 c, respectively.
Place cherries and sugar mix in blender, process 1 minute or until pureed. Stir in rind, juice, and merlot and pour all into an 8 x 8 pan. Cover and freeze until firm (about 8 hours).
To serve, remove from freezer and scrape with fork until fluffy.