Pixie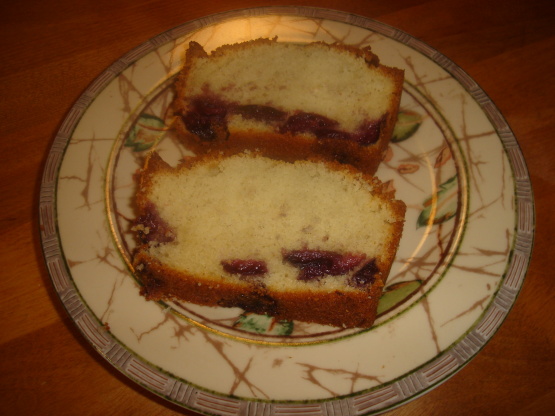 This recipe is from the internet. It was originally called "Maddie's Cherry Loaf". It is very moist. I make about 6 loaves of it every Christmas.

I had some fresh cherries I needed to use and since my kids love banana bread, blueberry bread, etc. i figured this would be something good to try. I did chop the cherries pretty small so they didnt sink to the bottom. it was actually really good. It didn take about an hour and 15 min to cook so the top was a little darker than i would have liked but still very good. The kids loved it. thanks for sharing I will definetly make again. :)
Cream butter, then add sugar.
Add eggs.
Combine flour and baking powder.
Use some of your flour to coat cherries.
Alternate the dry ingredients with the milk into the butter mixture.
Add the cherries.
Pour into greased loaf pan.
Bake at 350° for 45 minutes to an hour until brown on top.