Prep 20 mins
Cook 25 mins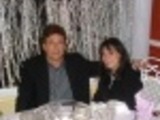 This is a quick, simple way to serve those deliciously sweet cherries when they are in season. It is made entirely on the stovetop, so there is no hot oven involved.
Directions
Mix flour, baking powder, 1/2 t. orange zest, and the salt in mixing bowl. Pour in half-and-half and stir quickly to mix.
Combine cherries, 1 cup water, the sugar, orange juice, and remaining 1/2 t. orange zest in 10-inch skillet. Cover and heat to boiling.
Drop batter onto cherries, making 6 dumplings. Reduce heat to maintain steady simmer. Cover and cook until toothpick inserted into dumpling comes out clean, 20-25 minutes. Serve immediately, with cream, if desired.
Most Helpful
This is a pretty basic dessert. I didn't care for the dumpling/biscuit topping but did really like the cherry mixture. We dumped the topping and had the cherry mix on vanilla ice cream ... Excellent!