Kree6528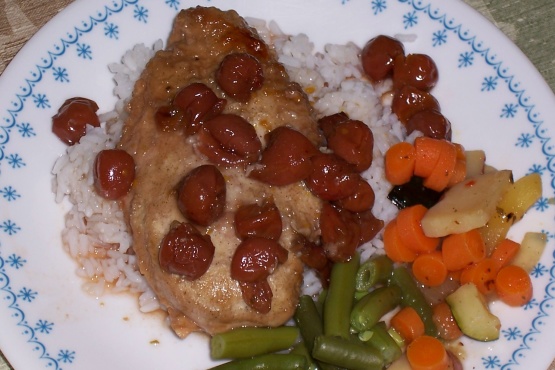 Another TERRIFIC chicken recipe from Rodale's "Terrific Chicken: 100 Great Meals in Minutes". I haven't tried this one yet but because it's different from the couple of Cherry-Glazed Chicken recipes already posted here, I've decided to share it before making it. It's on my to-be-made-soon list. In the notes included with the recipe, is a recommendation to buy tart or sour pie cherries in a can because regular cherries will be too sweet. An alternative suggestion is to use 2 cups of frozen, unsweetened pitted tart cherries and 1/2 a cup of cherry juice in place of the can of cherries.

This was really exceptional considering how simple it is! I used a can of tart cherries and wasn't sure whether to use Dijon mustard or French's so I went with the French's since it IS yellow mustard. Anyway, the taste was excellent and not as sweet as I was thinking with all that sugar. It was perfect! I served with some brown rice and steamed green beans. Thank you!!
Preheat the oven to 350ºF.
Rinse the chicken with cold running water and pat dry with paper towels.
Pour the milk into a shallow dish.
Mix the flour, thyme, salt and pepper together on a sheet of waxed paper or a shallow tray.
Dip each piece of chicken into the milk, then coat with the seasoned flour, shaking off the excess.
Heat the oil in a large non-stick pan over a medium-high heat and cook the chicken pieces for 5 minutes on each side or until golden-brown.
As they brown, transfer the chicken pieces to a 13x9-inch baking dish.
When all the chicken has been transferred to the baking dish, cover it with foil and bake for 30 minutes.
THE CHERRY SAUCE: Combine the reserved cherry juice and both sugars in a small saucepan and bring to the boil over a medium heat. Stir in the mustard and cook for a further 5 minutes, or until the sauce thickens slightly. Stir in the cherries. (The sauce will continue to thicken once it bakes.).
After the chicken has baked for 30 minutes, uncover it, and spoon the hot cherry sauce over it.
Bake, uncovered for a further 15 minutes, or until the chicken is tender and the juices run clear.
Serve over rice or noodles with steamed green vegetables.