NELady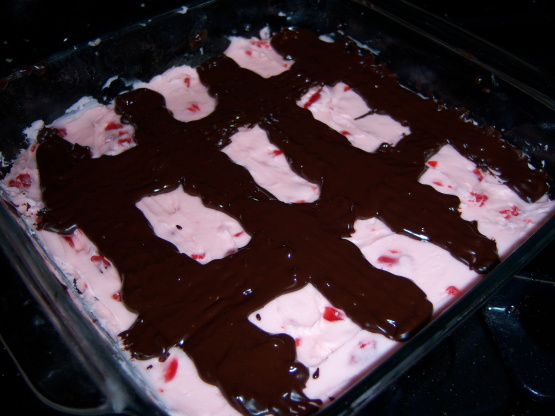 This is a recipe that one of my friend gave me. And I was lucky enough to have 2 squares. It's sweet enough and delicious.

Top Review by NELady
These squares of rich, cherry, chocolately SIN are so good, they're NAUGHTY! I don't even know what else to say. If you like marachino cherries and chocolate, TRY THIS! The crust (with the almond and coconut and graham cracker and cocoa) was DIVINE! Made for Photo Tag, 1/25/09 - NELady.
Crust : Cook at low heat in a saucepan with thick bottom : butter, cocoa, sugar, eggs, whisking continuously about 5 minutes, until it's thick.
Remove from the heat and add vanilla, graham cracker crumbs, coconut and almonds.
Butter a square pan of 9 inches and spread the crust mixture pressing firmly. Freeze.
Cherry Garnish : In a bowl, with an electric mixer, mix powdered sugar, butter, cherry juice and almond extract, until mixture is creamy.
Add cherries and stir with a wooden spoon. Spread the cherry mixture on the cold crust. Freeze while doing the chocolate glaze.
Chocolate glaze : On the top of a double boiler, melt the chocolate with the butter.
Spread the chocolate glaze on the cherry mixture.
Let cool and cut in squares.