Kree6528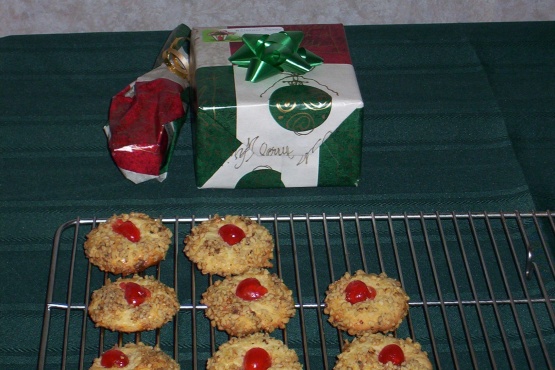 This is another Christmas favorite in my house! I used to have so much fun pressing the cherries onto each cookie when I was younger. These cookies are sweet and delicious, both with and without the nuts! Cook time is if you bake about a dozen at a time.

Very good and very easy! I made these tonight for my son's preschool Xmas party tomorrow. My husband was instructed to start steps 1-4.....he put the egg whites in the dough mix and threw out the egg yolks! Anyway, I omitted step 6 (no egg whites/no nuts in case of unknown nut allergies for the kids) and baked them; they turned out just fine. I sprinkled them with powdered sugar too. Thanks, Kree! (Next time I will be not be splitting the task of baking these with DH!) Grrrr! LOL!
Mix margarine and sugar until fluffy.
Stir in Karo syrup and egg yolks; mix well.
Mix in flour.
Chill.
Roll into 1 inch balls.
Dip into slightly beaten egg whites and roll in chopped nuts.
Place on greased cookie sheets.
Press candied cherry halves into centers.
Bake in 325 degree F oven for 20 minutes.