flower7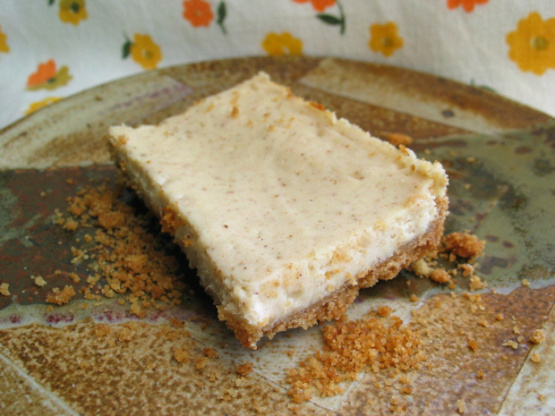 An easy, simple cheesecake. No whipped cream required!

When I realized I had cinnamon grahams I decided to change this a little and make Spice Delight instead of Cherry :) What I did was skip the optional cherry topping and add some speculaas kruiden (spices for Dutch speculaas cookies, similar to pumpkin pie spice). Specifically, I halved the recipe (baked in an 8x8) and added 1/2 tsp of the spices to the filling. I also cut the sugar to 1/4 cup and had to add an extra 1 1/2 Tbsp butter to get the crumbs for the crust to hold together (and it was still a bit crumbly). I was unsure about the short bake time but it was perfectly done after 15 min (I did bake the crust alone for 5 min before adding the filling). The end result was definitely a delight! Thanks for the recipe - I'll be making it again for sure! :)
Mix the graham crackers and margarine together and press into a 13 x9 pyrex dish. (To crush the crackers, you could place them all in a ziploc bag and use a rolling pin. Then add the margarine right to the bag and pour the mixed contents into the dish).
Blend the sugar, eggs, vanilla, and cream cheese. Pour the mixture into the graham cracker crust.
Bake 15 minutes at 350 degrees.
Cool and spread the cherry pie filling over cheese mixture. (opt).
Chill 24 hours (opt).