Cherry Crisp - from Scratch!
cbryan34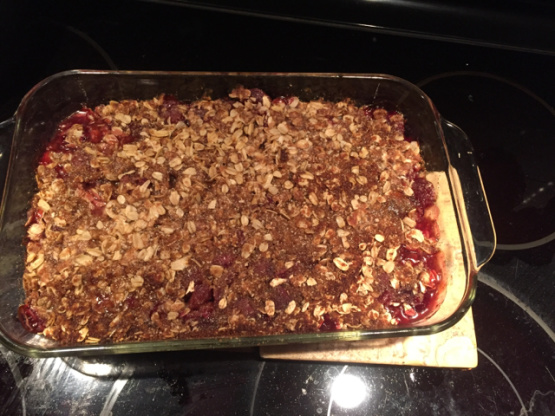 There are many crisp recipes on the site, but I didn't find one quite like this one. There are no cans of cherry pie filling here. Yes, you too can make a cherry crisp from scratch, using real cherries! You could use this filling for many other things like ice cream topping, or Toast-tites on the campfire! Yummy!

We picked 25 pounds of Queen Anne and Bing cherries at an orchard yesterday. We enjoyed this recipe today. I tripled the recipe and baked it in a 9x13. I used the crisp topping (only doubled, not tripled) from Recipe #82925 since I didn't have any granola on hand. It was an excellent dessert that I will make again.
Preheat oven to 375 degrees. In a large bowl, gently toss first 5 ingredients together. Place in a greased casserole dish or 8 inch square pan.
In another bowl, mix the rest of the ingredients, using a pastry blender or fork. The mixture should resemble course crumbs. Spread mixture over pie filling. Bake for 30 minutes or until brown.
Serve warm with vanilla ice cream. You can substitute canned cherry pie for the homemade cherry filling if you want to, but why?