Chilicat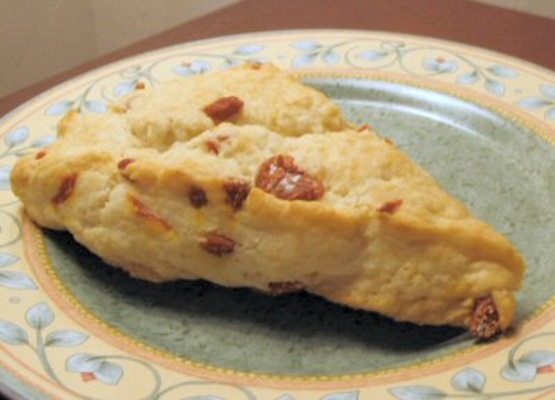 Delicious Scones from the prestigious Culinary Institute of America. Scones aren't just for tea anymore. Like the humble all-American biscuit, they offer a satisfying addition to almost any meal. These light, flaky crumb and tender texture scones complement any dish. Scones have gone from the classic teatime essential to a trendy and sophisticated anytime snack. These are hands down the most tender and delicious scones I have ever eaten. (The scone dough must be frozen for up to 12 hours before use). For tender, flaky scones refer to these guidelines: 1. Do not over mix. If you work the dough too much, your scones will be tough and chewy. 2. Roll or pat the dough so that it is at least one-half inch thick. Thicker dough results in a better shape and lighter texture. 3. Watch the clock when baking. Like most baked goods, scones continue to bake as they cool.

These really are amazingly light and tender scones! The instructions were great, and the tips to produce perfect scones were invaluable. I had to use a 9" pan but that just made the scones a little thicker - they still came out superb. I didn't have any dried cherries so I used goji berries (my one nod to healthy eating). I also didn't bother with the glaze -- the scones were lightly sweet by themselves and really didn't need the extra sugar. If not for the heavy cream I'd be making these weekly for sure!
Cut two 10-inch circles of parchment or waxed paper; Use one to line a 10-inch round cake pan; Reserve the second piece.
Sift the flour, sugar, baking powder, and salt together into a mixing bowl; Make a well in the center of the flour mixture; Add one cup of dried cherries to the dry ingredients just before blending in the cream.
Add the cream to the flour mixture and stir by hand just until the batter is evenly moistened.
Place the dough into the lined cake pan and press into an even layer; Cover the dough with the second parchment paper circle; Freeze the dough until very firm, at least 12 hours.
Preheat the oven to 350°F; Prepare a baking sheet by spraying it lightly with cooking spray or lining with parchment paper.
Thaw the dough for 5 minutes at room temperature; turn it out of the cake pan onto a cutting board; Cut the dough into 10 equal wedges and place them on the baking sheet about 2-inches apart;
Mix the milk and confectioners' sugar together to make a glaze and set aside.
Bake the scones until golden brown, 30-40 minutes; Cool them on the baking sheet for a few minutes then transfer to cooling racks; spoon glaze over the scones while they are still warm.
Serve the scones warm or at room temperature; Serve baked scones the same day they are made or freeze for up to 4 weeks.