Olive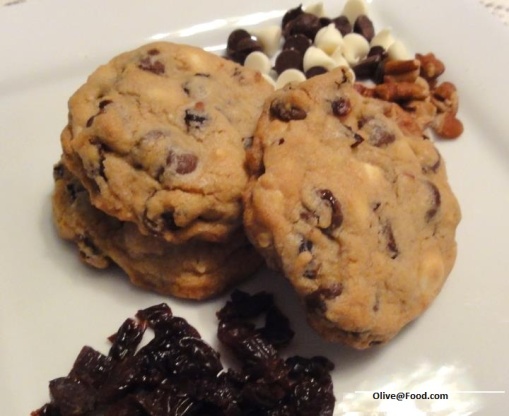 I got this from a recipe group I'm in. Haven't made it yet & wanted to save it here. It was getting raves in the group. Also, a lot of people were saying that they substituted dried sweetened cranberries for the cherries. Where it calls for milk chocolate, I plan to sub semi-sweet because it sounds as if it may be too sweet with white & milk chocolate IMHO

Delicious cookies, definitely gourmet in taste. I used instead of the two kinds of chips 1 cup of swirled white and chocolate chips. I also cut the dried cherries in smaller pieces. These are definitely more adult in taste, a great thing for a womans tea, or as a gift.
Preheat oven to 350°.
Cream butter and sugars together until light and fluffy. Add Vanilla & egg. Beat thoroughly.
Mix all dry ingredients except the two chips, the pecans and the cherries in a medium bowl.
Add to wet ingredients and mix well.
Fold in cherries, chips and nuts.
Spoon out rounded teaspoonsful of dough onto ungreased cookie sheets.
Bake about 12 minutes. Cool on sheet for about one minute then transfer to cooling racks to finish cooling.
*Note- if anyone finds anything wrong with the directions please let me know. The original directions simply said "make like you would chocolate chip cookies" so I wanted to be more specific for those with less baking experience.