Cherry-Chocolate Coffee Float
Annacia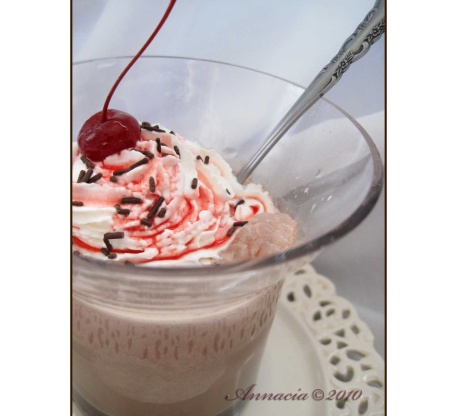 This recipe is from Paula Deen.

OMG, Lainey you have just become my coffee angel. This is amazing, it's heaven in a glass. It tastes better than anything you can in those overpriced coffee places. I used no sugar added chocolate ice cream, fresh made espresso, Cool Whip Light in a can and a few chocolate shots on top so it isn't even a killer diabetic wise. The only problem with this is that as soon as it's finished you immediately want another! Pure Perfection, made for Photo Tag.
In serving glass or mug, place ice cream.
Slowly pour hot espresso over ice cream; drizzle with cherry syrup.
Garnish with whipped cream, cherry and shaved chocolate, if desired.
Serve immediately.