Cherry Cheesecake - Reduced Fat
Prep 15 mins
Cook 40 mins

Easy enough for a beginner who has never baked a cheesecake! This recipe has half the fat of comparable cheesecakes! Graham cracker crust add another 100 calories, 3g fat, 6g sugar and 1g protein per serving.
Directions
Preheat oven to 350 degrees.
Using a stand mixer, combine milk and cream cheese on low to medium-low speed until smooth. Sprinkle in cornstarch making sure it is evenly distributed. Add eggs, egg beaters and vanilla and combine on low speed until smooth - scraping down side if necessary.
Pour into pie crust, but don't go over the edge (it will puff) and bake for 40-45 minutes until edges are just brown or tiny cracks appear on edges of cake and center does not jiggle when you shake the pan. Don't open the oven door more than necessary! IF you have extra filling (I usually do), spray ramekin with non-stick spray and bake 40 minutes, checking every 5 minutes after 30 minutes has gone by.
Turn off oven and prop door open and allow cheesecake to cool for 30-45 minutes in oven. Then cool on wire rack completely.
Cool another 2 hours in fridge, top with light cherry pie filling before serving. Store in fridge.
Reviews
Most Helpful
Creamily yummy and SO easy to make! We really enjoyed this: great with the berry topping. Not sure what graham crackers are. I used Granita biscuits, crushed and bound with melted butter. Thanks for sharing this recipe.

A nice quick cheesecake. I used a regular pie crust but otherwise made as directed. This cheesecake is denser cake than we like, but still yummy. Thanks for sharing the recipe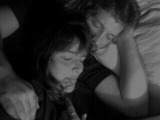 Sooooo easy! This will be the recipe I use for basic cheesecake from now on! I used blueberry since that's all I had and had to sub one block of cheese with cream cheese, otherwise made as written. My daughter came back into the kitchen singing YUM YUM YUM!