Cherry Cheesecake Muffins
alligirl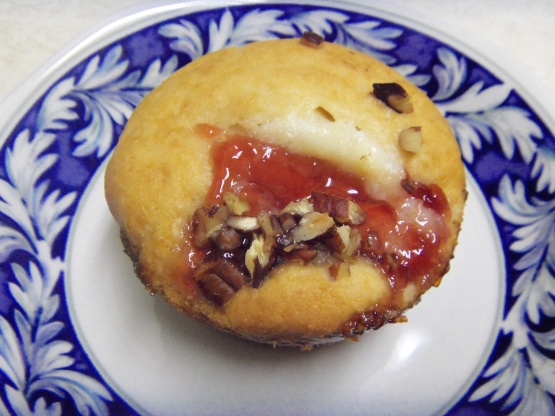 I found this in a muffin cookbook by Canadian Living. You can use different jams if you don't have cherry jam. They will freeze very well , just place in a zip lock bag or in an air tight container.

I just loved the flavor and texture of these muffins, even if I fixed them wrong. I should have used liners. While I was filling them 1/2 full, then that was all the batter. I thought if I added the cherry and cream cheese mixture, the cake would swallow the filling ingredients - not so. If I had used liners, the 1/2 way point would have been met earlier. So, the filling bubbled up and over, but no matter; the flavor shines through. Next time, (and there will be a next time) I will try to encompass the filling a little better! Thanks for sharing a great recipe, bigbadbrenda.
Blend cream cheese with icing sugar, set aside.
In bowl cream the butter and brown sugar.
Beat in egg and orange rind.
Combine flour, baking powder and salt.
Add to the creamed mixture alternately with the milk. Stirring until blended but do not over mix.
Spoon into large greased muffin tins , filling 1/2 way up. Add 1 tsp of the cream cheese mixture and 1 tsp of the jam to each. Top with remaining batter.
Sprinkle with nuts.
Bake for 25-30 minutes at 375 until firm to the touch.
Remove from tins.