Cherry and Tangerine Oatmeal
Mandy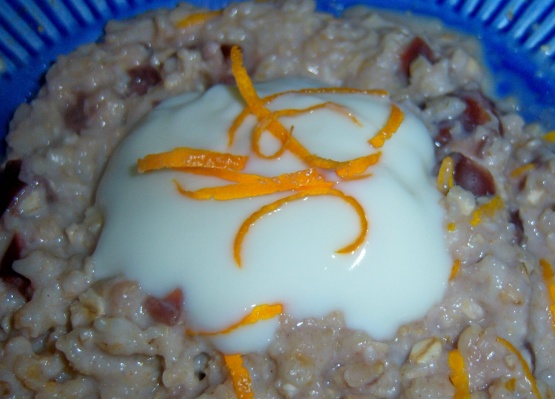 A tasty healthy breakfast porridge. The flavors blend well by chilling the milk, oatmeal, and fruit together over night then cooking. Cook time does not include chill time.
In a nonmetal bowl combine oates, cherries, tangerine peel, cinnamon, salt and nutmeg. Stir in milk; cover and chill for 8-24 hours.
To serve, transfer oatmeal mixture to a saucepan. Heat just to boiling; reduce heat. Simmer uncovered 5 mins or until oatmeal is done, stirring occasionally.
Remove from heat. Stir in butter until melted. If desired, top with warmed milk, sugar and nuts.