momaphet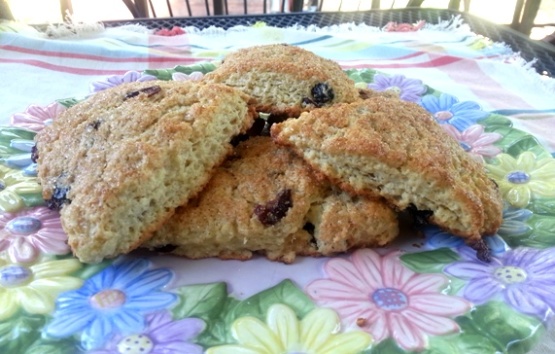 I don't recommend these for anyone who's looking to eat healthy but those looking for Nirvana have just found it! Wonderful at any time but they are, of course, best when fresh from the oven and still warm.
Yum! These scones are very soft and rich, with more of a cakelike texture then scones usually have. I reduced the recipe to 1/3 and got 6 nice sized scones. I liked the almond extract, DH who usually loves almond thought there should be less to let the natural scone flavor come through. I used about 1/3 dried cherries and a balance of dried cranberries only because the cherries were down to the bottom of the bag. I really liked the sweet tartness of the cherries with the almond flavor. I sprinkle the top with raw sugar and a little regular cinnamon sugar. I don't usually like and egg glaze but this along with sugar provide the crunch that these needed to contrast with the soft texture. Lovely scones, thanks Annacia for sharing! Made for ZWT 9 Scandinavia by one of Mike and the Appliance Killers.
Soak cherries in water for 10 minutes. Drain and set aside. In a large mixing bow, combine the flour, sugar, baking powder, salt and cream of tartar.
With a pastry blender, cut in the margarine, Set aside.
In a small bowl, combine egg yolk, sour cream, cream and extract.
Add to flour mixture; stir until a soft dough forms.
Turn out onto a lightly floured surface; knead gently six to eight times, knead in cherries.
Divide dough in half and roll out each to 1/2 an inch thick and cut into each into 8 wedges.
Place on lightly greased baking sheet.
Beat the egg white until foamy; brush tops of scones and sprinkle with sugar.
Bake at 400 degrees for 12-15 minutes.