Cherry Almond Muffins or Coffee Cake
gailanng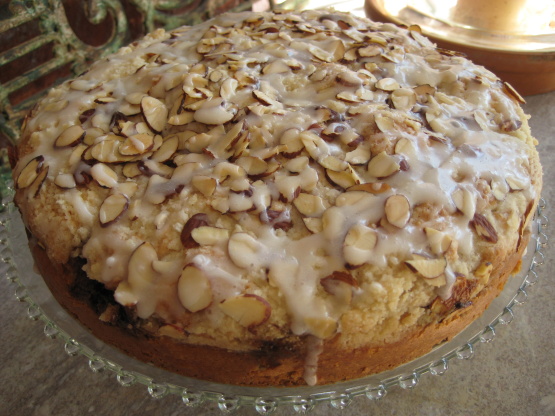 I'm not sure where I originally got this recipe but I just recently tried it myself. Since the batter is more like a dough, I found it incredibly hard to layer in the muffin tins as described. Next time I'm going to use my springform pan and make a layered coffeecake instead and bake it for about 50 minutes.

FanTAStic!! I took these to work today and they were scarfed up immediately. The sweet tartness of the cherries, the creamy smoothness of the cheese, and the light texture of the biscuit base combine to make something close to the perfect muffin!
In a bowl, combine flour, sugar, baking powder, baking soda and salt. Cut in butter until the mixture resembles coarse crumbs.
Beat the egg, sour cream and extract until smooth; stir into dry ingredients just until moistened (batter will be thick).
Combine flour and sugar in a small bowl; cut in butter until crumbly. Stir in almonds: set aside.
In a mixing bowl, beat cream cheese, egg, sugar and vanilla until smooth.
Fill greased jumbo muffin cups half full with batter.
Divide cream cheese filling and preserves evenly between muffin cups; swirl gently. Cover with remaining batter. Sprinkle with topping.
Bake at 350 F for 30-35 minutes or until muffins test done. Cool for 5 minutes before removing from pans to wire racks.
Editor's Note: If using regular-size muffin cups, bake for 20-25 minutes.