Redsie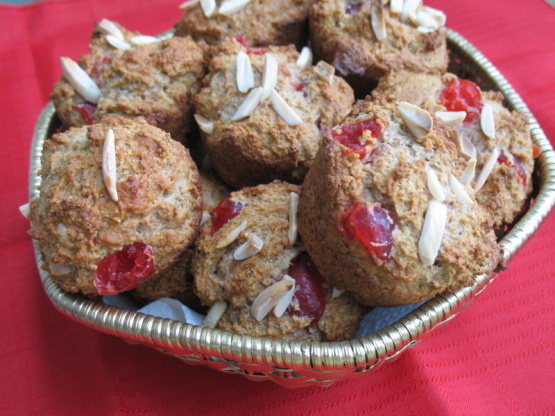 I recently purchased a muffin and bread book at a used bookstore. Came upon this recipe and recalled the jar of maraschino cherries leftover from Easter and thought it was a tasty way of using up what I otherwise use strictly as garnish. It initially stuck me as odd to use maraschino cherries in an otherwise healthy recipe, but the results are so tender and tasty I think of this is redemption for the poor dyed and preserved fruit. What is presented here includes my changes to the original.

Great combo of flavors! I love cherries and almonds! I halved the recipe to get 6 muffins. I used all white sugar and 2 large egg whites. I did add in 1 T. cherry juice since the batter was a bit thick and that made the batter perfect. Next time I will chop the cherries smaller and mix in the almonds (I only put them on top as decoration). I have made a lot of muffins with wheat flour and while this one was dense, it happened to be the least dense of many recipes I have tried, maybe the extra egg white helped. Great recipe!
Preheat oven to 350°F
Lightly spray muffin tins with cooking spray. (You can also use liners but the direct contact with the pan gives the exterior a crisper exterior.)
In a large bowl combine the flour, Splenda, sugar, cinnamon, baking powder and baking soda.
In a medium bowl, beat egg whites until they are well-frothed but not stiff. If you have meringue, you've gone to far. Add the yogurt and almond extract and beat a few more seconds.
Add the liquid mixture to the dry ingredients, mix until just combined. Over mixing will result in some tough puck-like muffins. Gently fold in the cherries and almonds.
Fill muffin cups two-thirds full and bake for 18-20 minutes. A toothpick inserted in the center of a muffin should come out clean.
Serve warm. I like mine with Brummel and Brown spread.
Enjoy!