Cherry Almond Bread (bread Machine)
chia2160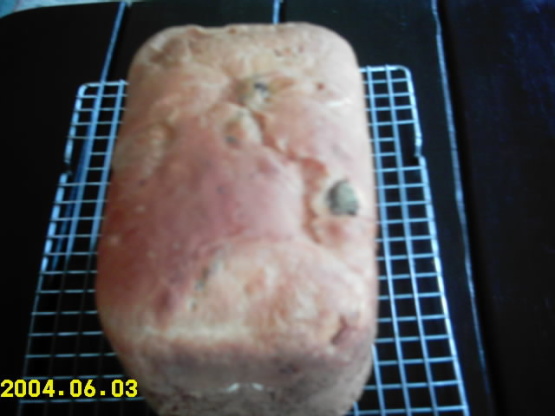 This bread has a fantastic nutty flavor. Biting into a dried cherry is like a little taste of heaven. It reminds me of the specialty breads I buy from a local breadmaker, Montana Mills... but a lot cheaper! I found this online, where it was posted by Tony van Roon. He also recommends trying it with canned cranberries, although I haven't done that myself because I like it just the way it is.

This bread was pretty good, but not really what I had expected. It's not at all sweet, but does have a great nutty flavor.
Add ingredients to the bread machine pan in the order suggested by the manufacturer.
Use the basic/white bread cycle and the light or medium crust color setting.
Remove bread from pan; cool on wire-rack.
To toast almonds: Spread in a shallow baking pan large enough to accommodate a single layer.
Bake the almonds at 350 F for 6 to 12 minutes or until golden brown; stir a couple of times and check often or they will burn.
Cool before adding to your bread machine!