Cherries Poached in Vanilla - Cerises Pochées
Rita1652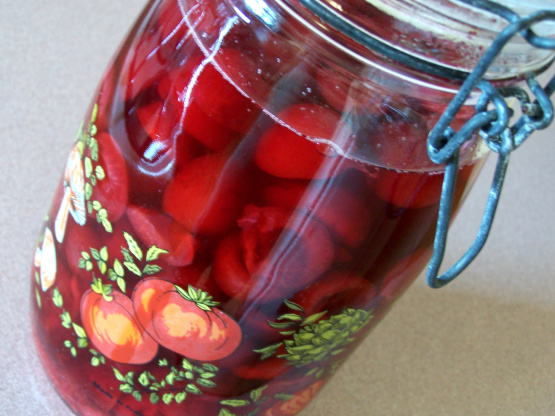 Poached Cherries in vanilla and lemon syrup can be served straight up, garnished with whipped cream or for cakes, filling for crepes or as an ice cream topping. Pronounced: suh reez / poh sheh

This is another recipe I made to serve as finger food at our New Year celebration over the next couple of days, & believe me these make a great tasting, flavorful bite! Definitely want to make another batch ASAP to use as a topping for frozen yogurt! Thanks for sharing this easy-to-make recipe ~ A KEEPER!
Combine the water, sugar, vanilla bean, and lemon zest in a medium saucepan. Place over low heat and stir until sugar dissolves.
Raise the heat to high and bring the syrup to a boil.
Stir in the fruit and the lemon juice. Cover the fruit with a lid slightly smaller than the diameter of the saucepan. This will keep the fruit submerged in the syrup.
Reduce the heat to low and cook about 8 minutes.
Allow the fruit to cool in the syrup, still covered, to room temperature. Transfer to a serving bowl, cover and chill at least 30 minutes before serving.