Cindy W.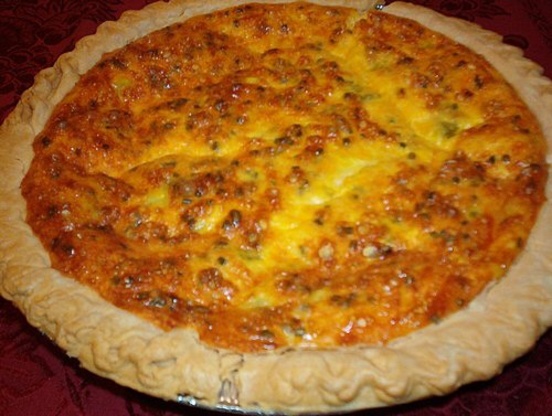 Seemingly having tried them all, I keep coming back to this great, simple, tasty quiche recipe. I think the celery soup makes the difference. It's always good.

Another winner from my PAC adoptee! This is a deceptively simple quiche that can be dressed up any way you want (and the poster very kindly gives us a number of recommendations to try). I chose to keep it simple my first time making it and only added some chopped chives to the original recipe. This quiche has lots of cheesy flavor, nicely balanced by the addition of the cream of celery soup. We enjoyed this. (Reviewed and photographed for PAC Spring 2009)
Pre-heat oven to 350 degrees.
In mixing bowl, beat eggs with wire whisk until well combined.
Mix in all other ingredients, including fillings.
Pour into pie shell.
Bake for one hour.
Suggested fillings(up to 2 cups).
Garden vegetables.
Spinach and feta.
Bacon and onion.
Crab and olive.
Shrimp and dill.
Tomato and basil.
Ham and swiss.
Sausage, spinach and onion.