MomLuvs6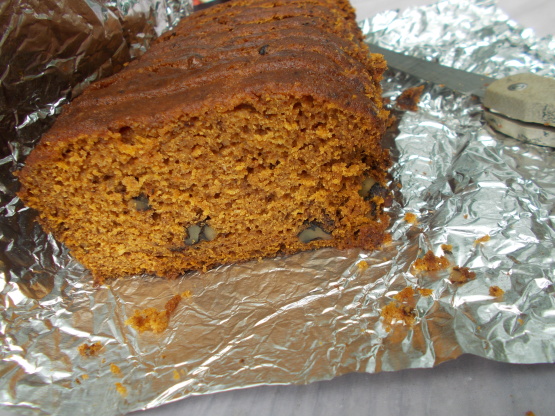 A great holiday favorite- I got this from an old Betty Crocker cookbook and make it along with my Chelle's Zucchini Bread and Chelle's Banana Bread in mini loaves for the holidays! I generally get 6 mini loaves from this recipe and they bake for 33 minutes for me without any changes to the recipe. Easy, fun, crowd pleasing recipes! Enjoy!
Heat oven to 350°F.
Grease the bottom only of loaf pans (two pans if using 9 inch, three if using 8 or 8.5 inch).
In a large mixing bowl, combine sugar and shortening.
Stir in eggs, water and pumpkin.
Mix in remaining ingredients thoroughly, except nuts.
Stir in nuts (if desired) and pour into pans.
Bake for 70 to 80 minutes; until a wooden toothpick inserted into the center of the loaves comes out clean.
Cool for 5 minutes.
Loosen the sides of loaves from pans, remove from pans to finish cooling.
Cool completely prior to cutting.
Great served toasted with butter, with cream cheese frosting, whipping cream with rum as dessert, or just plain!
Enjoy! ;).