Chelle's Famous Sweet and Sour Meatballs
MsSally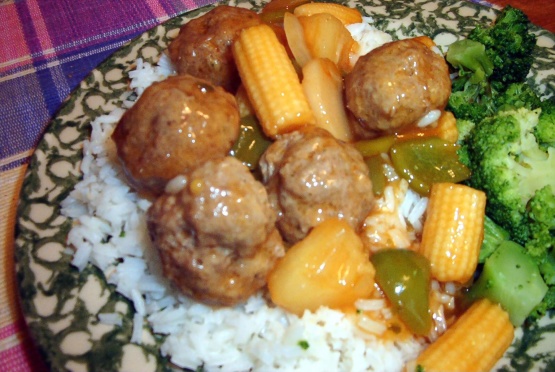 I make this using Chelle's Famous Turkey Meatballs. This is one of my family's favorites...even my husband's family (mother-in-law and her friends, sister-in-law, brother-in-laws, etc.) All seem to like these. I like to serve them with my Crab Wontons as an appetizer when serving to guests. ;) They go great in a crockpot for parties, bbq's, potlucks, etc. and I am usually requested to bring them!! Amounts can vary depending on number of meatballs you make. ;) ****You can add green pepper, red pepper and additional pineapple if you want more veggies - I usually don't unless I need to stretch it!

Fun, non-traditional sweet and sour dish. I used some frozen meatballs that I had in the freezer, and a spicy sweet and sour sauce I purchased at Trader Joe's. I left out the baby corn, but added all the optional ingredients, and served over white rice. Very good!
Combine red and green pepper, if desired, in pan and cook for 3-4 minutes or until tender.
Add meatballs (precooked, see recipe #196018), sauce, and all canned veggies to a large pot or in crockpot.
Cook on medium high heat for 30 minutes stirring often, (high crockpot) or until meatballs have warmed through.
Serve over steamed brown rice.
Enjoy!