Chef's Catalog World's Greatest Meatloaf
Kats Mom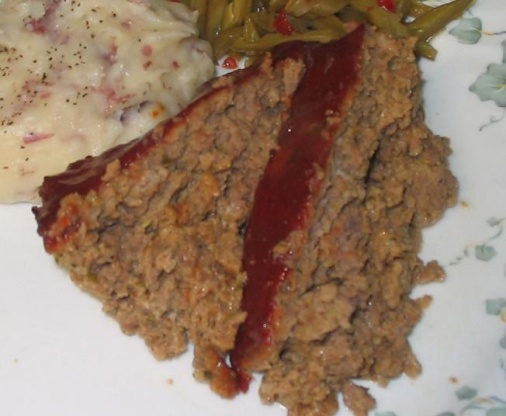 Found on www.chefscatalog.com. DH adores this meatloaf. Since I seldom have fresh herbs on hand, I used 2 tablespoons of the squeeze Italian herbs from a tube instead of dried herbs.

I thought this was a wonderful recipe, this is the first time my husband has asked for seconds. I would change a few things, I would add more breadcrumbs, and the mixed herbs I would use 1/4 teaspoon of each. I would also spray the pan with pam.
Preheat oven to 375°F.
In a medium bowl, stir together the breadcrumbs and milk; set aside.
In a large bowl, stir together the herbs, eggs, mustard, Worcestershire, salt, paprika, black pepper, cayenne pepper and the breadcrumb/milk mixture.
Add the ground beef, pork and veal and gently combine all the ingredients, taking care to not overwork the meat.
Transfer the mixture to a meatloaf or loaf pan.
Spread the ketchup over the top of the meatloaf.
Bake until an instant-read thermometer inserted into the center of the meat loaf registers 160 F, about 60 to 70 minutes.