Chef Paul's Red Bean S and Rice With Ham Hocks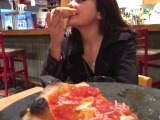 Who better than Paul Prudhomme to rely on when in need of a good red beans and rice recipe? We consider Chef Paul the Papa of Cajun cooking. He's simply the best! The beans need to soak overnight the day before cooking.
Directions
Cover the beans with water 2" above beans.
Let stand overnight.
Drain just before using.
Place the ham hocks, 10 cups of the water, celery, onions, bell peppers, bay leaves, and seasonings in a 5.5 qt saucepan or large Dutch oven; stir well.
Cover and bring to a boil over high heat.
Reduce heat and simmer until meat is fork tender, about 1 hour, stirring occasionally.
Remove ham hocks from pan and set aside.
Add the drained beans and 4 cups of the water to the pan; bring to a boil, reduce the heat, and simmer 30 minutes, stirring occasinally.Add the remaining 2 cups of water and simmer 30 minutes, stirring often.
Stire in the Andouille and continue simmering until the beans start breaking up, about 35 minutes, scraping the bottom of the pan fairly often.
*If the beans start to scorch, do not stir. Immediately remove from heat and change to another pot without scraping any of the scorched beans into the new mixture.
Add the ham hocks and cook and stir 10 minutes more.
Serve immediately over hot, white rice.
Most Helpful
I use a receip almost exact to this one. I have found a good andouille sausage is very important. I use fresh thyme and I add smoked hog maw. You are on the money with the key ingredients...It is nice to see. It was also nice to the taste...smile Thanx

I have to give most of this away when I make it because each time I make it, I brag about it and then the beggers come with bowls in hand. It is an awesome recipe. I always make Southern Biscuit Muffins to go with it.
This is a fantastic recipe! The only things I did different was fresh thyme and oregano (2 tbl each), black pepper (fresh coursley ground), & twice as much ham hock. I also left out the celery and added a bit more himalayan salt & water instead. This is gonna get written in my recipe book for sure.