Chef Jean's Alfredo Sauce
gailanng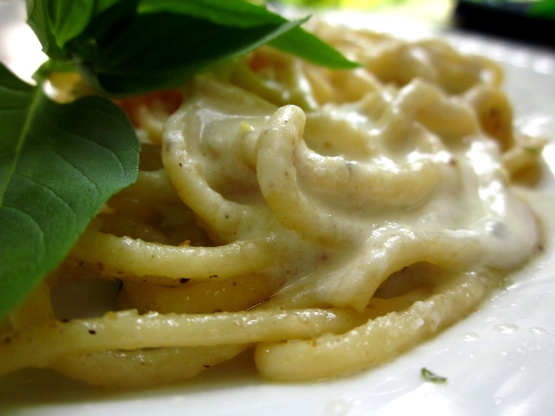 This is very simple and has two "secret" ingredients to jazz it up a bit(gorgonzola and lemon zest). The parmesean cheese amount is an estimate, I just use enough to thicken the sauce, adjust as needed.

I excitedly mentioned that I was going to surprise my husband with his all time fav...Alfredo, but someone here obviously couldn't contain himself. Telephone call as recounted by DH--Caller: Husband, is that you? DH: Who's this? Caller: Your wife. When are you going to be home for dinner? DH: That doesn't sound like you? Caller: I'm, uuurrr ummm, a little congested. DH: Seriously, who's this? Caller: buuuummmmmmmmmmmm. Minutes later DH comes home telling of a practical joker impersonating me. You can't turn your back for one second on Pepper, my cockatiel. I'm becoming suspicious of his plans of a hostile takeover.
In a large sautee pan bring the half and half to a boil, be careful it will spill over if you don't stop it in time.
Remove from heat and sprinkle in the gorgonzola, pepper and lemon zest. Stir once.
Add the parmesean a handful at time and whisk until the cheeses are fully melted and the sauce is thickend adding more parmesean if needed.
Return to very low heat if the cheeses did not melt all the way, do not bring back to a boil.