Chef-Boy-I-Be Illinois' Scalloped Potatoes and Ham
Parsley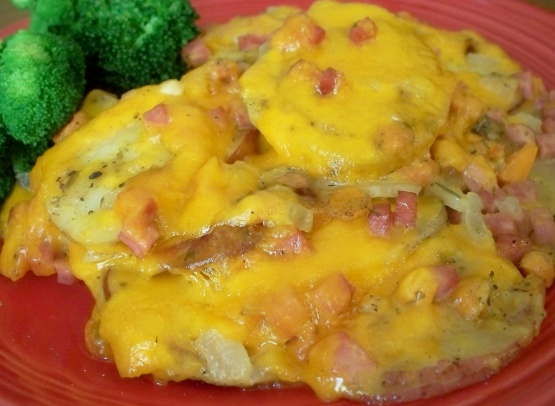 An easy and delicious way to use that leftover Easter, Thanksgiving or Christmas Ham. Rather than the ordinary recipe that uses cream, or sour cream, mine uses beef broth for a rich, yet healthy, comfort dish. There is just something about the salty, smoky flavor of leftover ham combined with potatoes and cheese. Enjoy!

Top Review by Mia 3
Hello from Portugal. What a great way of using up left overs, I used chicken (its what I had at hand as leftover) instead of ham, the rest of the receipe I followed as you have it posted. VERY good in the days we are living cant let nothing go to wast. Great comfort food, thanks for sharring this receipe!!
Preheat oven to 400 degrees F.
A food processor makes the grating and slicing easy! In a bowl, combine the processed vegetables with the flour, spices and cheese. Use your hands to really toss around so the flour coats everything.
Add the cubed ham and toss one more time.
Put half the mixture in bottom of 2 quart casserole, pour 1/2 of the broth over.
Put rest of mixture in casserole and pour rest of broth over.
Top with extra cheese if desired.
Cover with foil and bake for 45 minutes.
Remove foil and reduce heat to 350 degrees and bake for another 15 minutes.
Test potatoes for desired tenderness with a knife.