Chef-Boy-I-Be Illinois' Ligurian Pasta
Cook4_6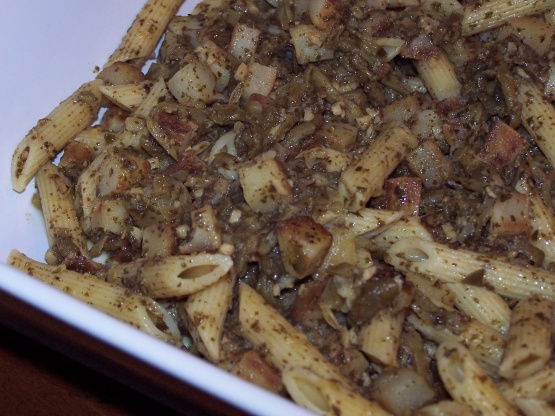 The Ligurian region of Italy is along the coast and contains some steep terrain. In addition to marvelous seafood dishes, the residents enjoy vegetables with their pasta, which while somewhat unusual, is very delicious. The combination of the pasta, with browned potato cubes and green beans in the recipe is brought together marvelously by the pesto sauce.

I would double the french beans next time. Didn't have much flavor, IMO. If you use powdered/prepared pesto, I'd add some fresh basil to make it more real.
Dice potatoes into 1 inch cubes and saute in olive oil until crisp and brown on the outside and easily pierced with knife. Salt and pepper to taste. Add the drained green beans to warm through.
Meanwhile, cook the pasta according to directions on box.
Add the pesto to the vegetables and mix thoroughly.
Add cooked and drained pasta to vegetables and mix thoroughly. Can add some of the pasta water if necessary.
Serve with a side salad, crusty bread and freshly grated parmesan to pass.