Mandy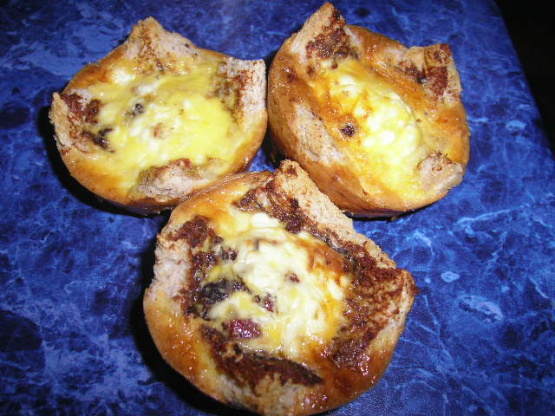 These little pies are a great little snack, perfect for the lunchbox they can be eaten hot or cold, also a good way to use up some stale bread. The cheese spread called for is the one by Kraft that is sold in the jar not the philadelphia cream cheese but I suspect philly could be used instead it just wouldn't whisk as well. This recipe is from Kraft Foods.

I had to babysit my friends little girls today, and these are what we made for lunch. There are none left. Two little girls devoured 8 pies! I don't think there can be a higher compliment than that.
Remove the crusts from the bread. Spread each slice of bread evenly with Vegemite*. Push bread gently into 8 x 1/2 cup capacity muffin pan to form a pastry case.
Cook the bacon in a frying pan over medium heat until crisp. Divide evenly into cases. Combine cheese spread and eggs until mixed and pour mixture into the bread cases.
Bake at 180°C for 10-15 minutes or until bread is golden and filling has just set. Serve warm or cold.