oriana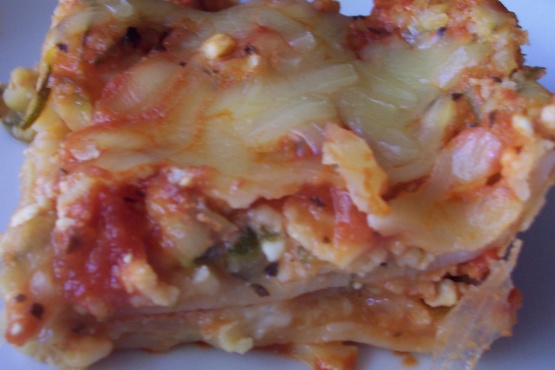 This recipe is the easiest lasagna I've ever made, especially since you do not boil the noodles. It's meatless, yet my family (carnivores included) enjoys it. This is based on a recipe I found in the Betty Crocker Low Fat Low Cholesterol cookbook. VARIATIONS: For those who aren't watching their weight, feel free to use the full-fat versions of the cheeses. Also, you may use regular lasagne noodles instead of whole wheat.
Heat oven to 350°.
Spray rectangular baking dish, 11x7x1-1/2 inches with nonstick cooking spray.
Reserve 1/2 cup of the mozzarella cheese.
Mix remaining mozzarella cheese, the zucchini, ricotta cheese and Parmesan cheese.
Spread 3/4 cup of the spaghetti sauce in prepared baking dish; top with 3 of the noodles.
Spread half of the cheese mixture over noodles in dish; top with 3/4 cup of the spaghetti sauce.
Repeat with 3 noodles, remaining cheese mixture and 3/4 cup of the spaghetti sauce.
Arrange remaining 3 noodles on top.
Sprinkle boiling water over all.
Cover with aluminum foil and bake about 1 hour or until noodles are tender and most of the liquid is absorbed.
Remove from oven; sprinkle with reserved mozzarella.
Let stand 15 minutes (or longer to get the desired firmness) before cutting.