Cheesy Zucchini Casserole
Kim127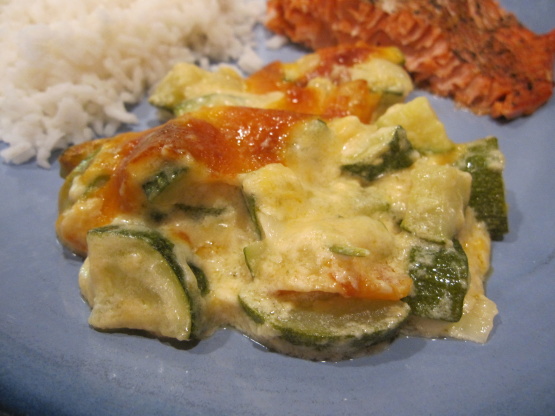 This is the only way I can get kids to eat zucchini, and the adults enjoy it as well. It really is good; it was included in the school cookbook at the request of my daughter. This recipe is a request at all my holiday meals. Try it, and I think your family will like it!

Top Review by Ceezie
We added reduced fat sausage to make this a one pot meal. We had a bunch of frozen shredded zucchini to use up so we used that instead of diced - dd toddler thought the zucchini was a noodle haha - and didn't have evap milk so used regular. What we ate was a tasty dish full of vitamins. Thanks
Saute zucchini, onion, and garlic in melted butter in a large skillet 5 minutes or until vegetables are crisp-tender; remove from heat.
Sprinkle flour and salt over sauteed vegetables, tossing gently to combine. Stir in evaporated milk, sour cream, and cheese.
Spoon zucchini mixture into a 1 quart casserole dish. Bake at 375 degrees for 20 minutes or until cheese melts and it is hot and bubbly.