3 Reviews
I loved the idea of pesto croutons. The corn and zucchini alone were so yummy I felt the cheese could be optional in this dish, or maybe cut back by half (personal preference). A wonderful summer dish, thank you for sharing Cookin-jo. [Made for Name That Ingredient].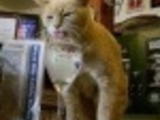 I loved this. I paired it with the recipe for Tivoli's Cilantro Grilled Chicken Breast recipe (#216627).
A 10 star recipe. The ease, the taste, the ingredients all speak of a total melt down of goodness. The "croutons" with the pesto is so delicious~I just didn't know what to eat first. A wonderful side dish, or one to eat all by itself. I followed this exactly, except I didn't have pesto. So I found Basil Pesto, and made this with the rest of the dish. I had a frozen mixture of corn, peppers, and some kidney beans, so I threw that in, since it had the ingredients. Topped with shredded mozzarella cheese, and bread. Total comfort! Thanks, cookin-jo! Will make again.

Cheesy Zucchini and Corn With Pesto Bread Topping