Derf2440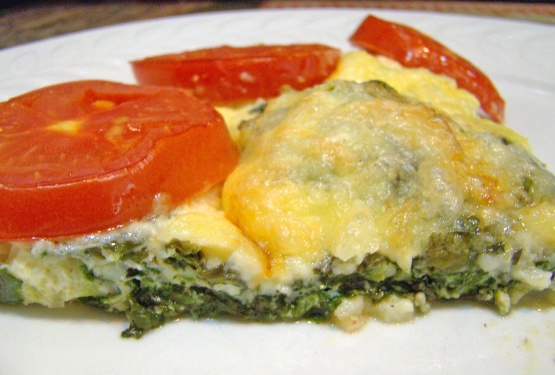 Italian dish, also called "frittata". Quick to prepare and deliciossso!!!

Excellent flavours and so easy and quick to put together. I used fresh spinach and a walla walla onion, loved the touch of nutmeg. Also used sharp white cheddar instead of the parmesan for a better melt. One I will make again and again!! thanks for posting.
Lightly beat eggs and set aside.
Saute garlic and onion in the oil until just witted. Add spinach. Heat through, blend in with the onion and garlic.
Add salt, pepper and nutmeg. Mix.
Pour beaten egg over vegetables. Cook over medium heat, shaking pan to keep omelette loose from the bottom. Loosen around edges with spatula.
Just before eggs are all set on top, sprinkle with cheese. Slip under broiler until browned.
Slide onto platter. Garnish with tomatoes. Cut in wedges to serve.
Good served with crisp hot french bread and butter.