Cheesy Vegetable Casserole
Parsley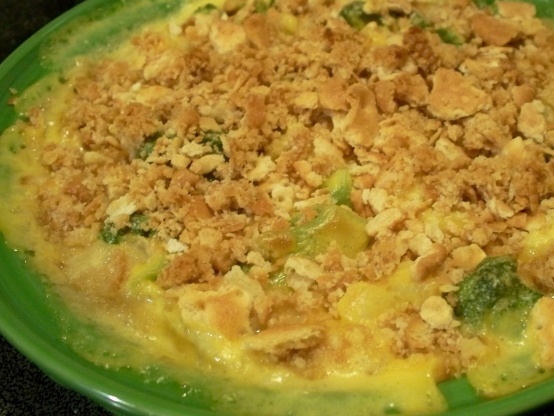 Only four ingredients are needed to make this delicious casserole! From Great American Recipes.

Top Review by nltate
Nice idea but this really did not work out. I made it to bring for Christmas dinner, followed the recipe to a T with one exception - the store didn't have American cheese so I used cheddar instead. The cheese clumped together and the bottom of the casserole dish was filled with oil. We had 8 people at dinner and only about 3 serving spoons of this dish got eaten, if that tells you anything. If I ever tried this again I would for sure use Velveeta cheese and probably about half the butter that the recipe calls for.
1⁄2 lb American cheese

1

(16 ounce) bag frozen broccoli carrots cauliflower mix, thawed and drained

1

cup crushed butter flavored cracker (about 30)
Cut the cheese into small cubes, and place in a saucepan with half the butter (1/4 cup).
Over medium heat, melt until smooth, stirring constantly.
Place the vegetables in a 1-quart casserole dish, and pour cheese mixture over.
Mix well, then spread evenly in dish.
Melt remaining butter, and combine with cracker crumbs; sprinkle over the top of casserole.
Bake, uncovered, at 350F for 20-25 minutes.
Serve immediately.